With two homes in one, our new Flex Houz is making it easier for multi-generational families to live together and enjoy it.
Can a house solve some of life's more pressing problems? We think so.
Times change and for the first time since Canada recorded such things, there are more seniors aged 65+ than there are children.
On the other end of the spectrum it's never been so difficult for young people to own their own home.
And in the middle? Working moms and dads are taking care of their parents and trying to help their kids make their way in the world.
Not surprisingly, multi-generational households (defined as having two or more adult generations living under one roof) are on the rise. But traditional floor plans meant for parents and minor-age children haven't kept up with your lifestyle. You need an alternative that works.
Enter Flex Houz
Unlike anything we've ever created, Flex Houz is a home inspired by and for multi-generational living. When it comes to creating floor plans and communities, we believe our best source of inspiration is you.
Let's give it some context.
Scenario 1:
We know that caring for an aging parent comes with a whole host of emotions and demands. Your options are limited: assisted living or leaving parents in their own home and hoping they'll be alright.
Flex Houz means independent living for a parent and peace of mind for you.
Scenario 2:
Or maybe it's an adult child saving for a home of their own. Flex Houz may be the one way to ensure harmony and keep the peace allowing for privacy and the freedom to come and go. (And maybe the added bonus of a home cooked meal every now and then.)
Regardless of which end of the spectrum you're accommodating, the financial and practical benefits are game changers. But before we look at those, let's take a look at how Flex Houz works.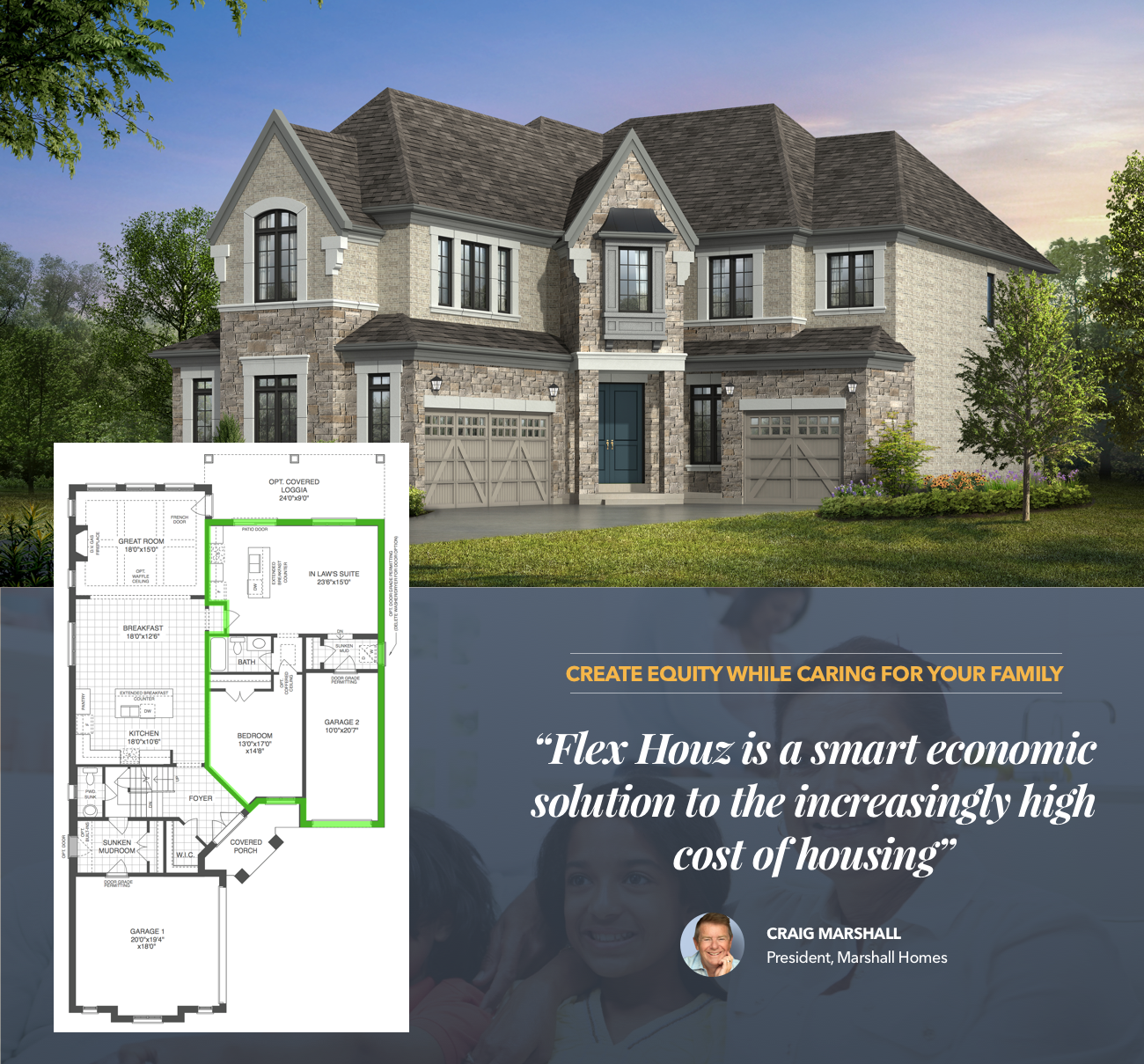 Two Homes in One
From the outside, it looks like a traditional house. Created for standard 50' foot lots, these home have the appearance of a normal single-family residence. But walk through the spacious interiors, and you'll quickly discover the difference.
This isn't your run-of-the-mill single family home. It's a home within a home. That's right — two complete homes under one roof. Instead of one front door, you'll find two. Same goes for the living areas, kitchen, garage, laundry room and mudroom. Both the primary house and the self-contained suite—located on the main floor (no stairs!)—have all the features you'd expect to find in a complete home.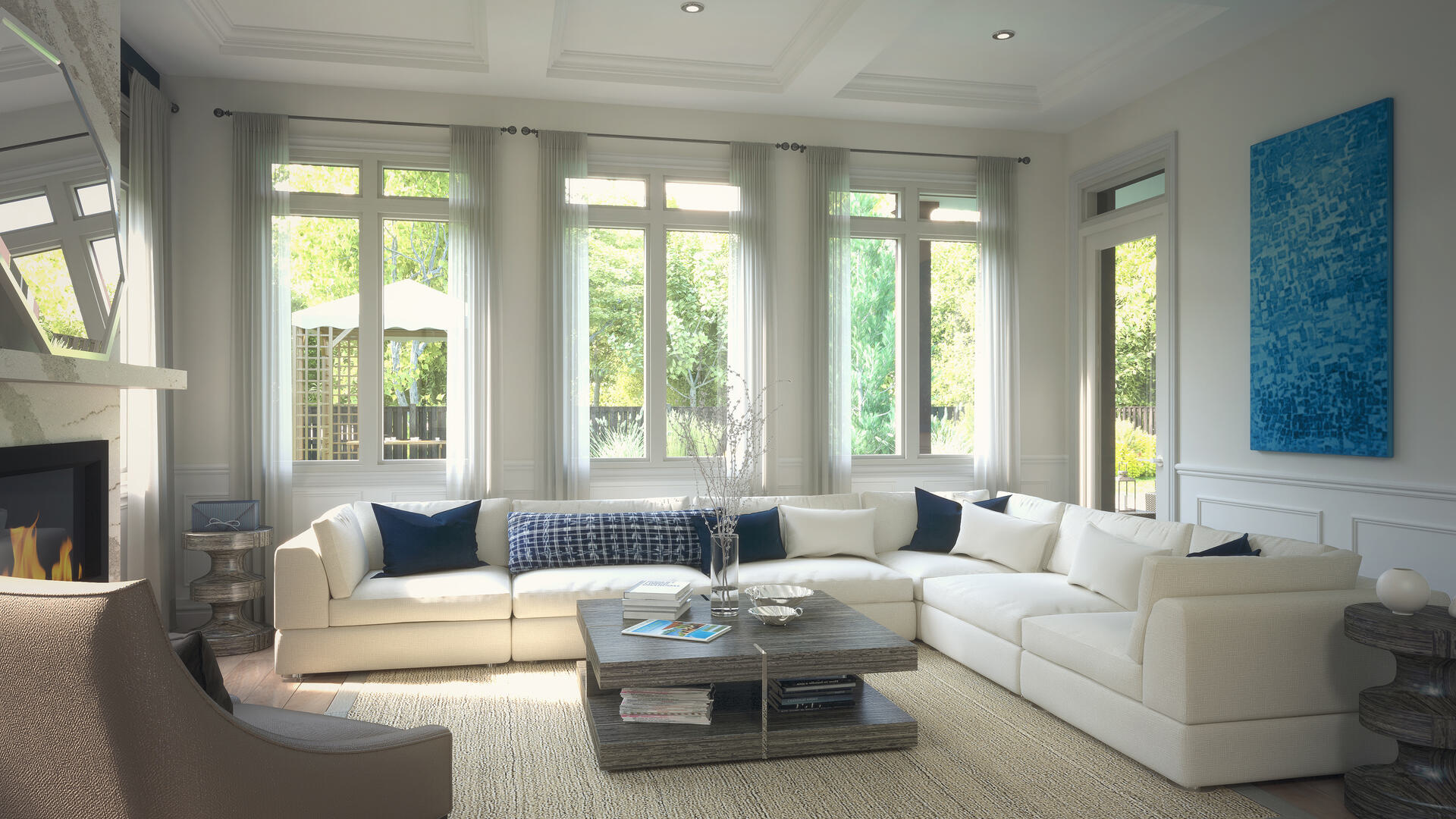 Separating the two spaces is an interior door. Leave it open to bring everyone together. Or close it off when you need privacy. (Because we get it. You love your family, but sometimes a little separation is a good thing.) This perfect balance between proximity and privacy is the genius behind Flex Houz. This "home within a home" design keeps everyone together, creating the opportunity for memorable moments, but it also gives each family member a sense of independence and a place to call their own. Flex Houz will help make the transition and daily reality of life together as a multigenerational family the best it can be.
Housing that makes sense today
Besides the benefits to your relationships and family—and the fact that you're getting two homes for the price of one—there are a number of additional perks that come from having two complete living spaces under one roof. Here are a few of the benefits from choosing Flex Houz.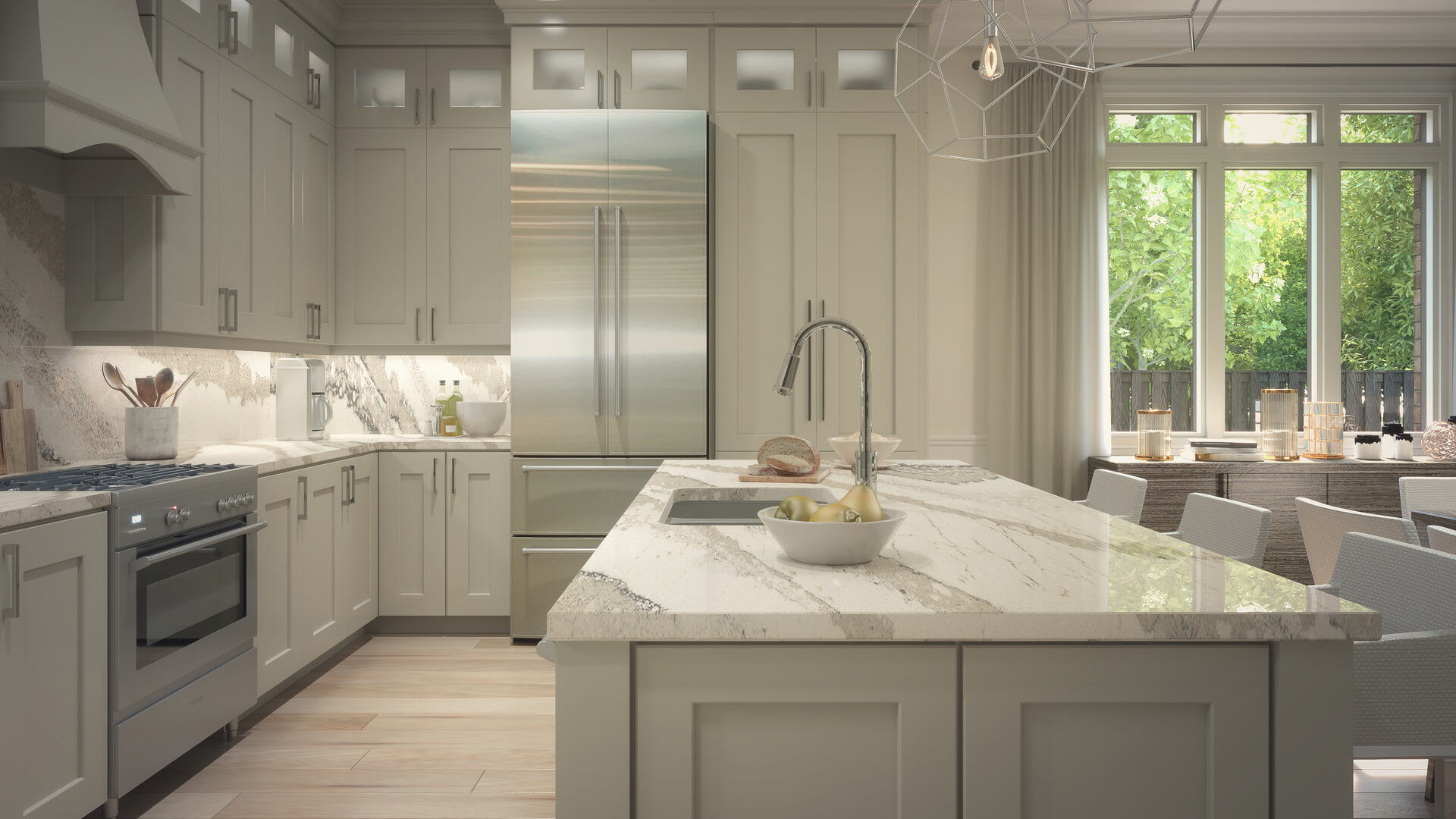 1. Create equity while caring for your family. Beyond our vision of making it easier for multigenerational families to live together and enjoy it, we see Flex Houz as a solid solution to the financial dilemma of assisting aging parents or millennial-aged children with their living arrangements. Rather than pouring your hard-earned finances into a senior community or assisted living facility or having to funnel it into a deposit on your children's first apartment, Flex Houz allows you to channel those funds into your own mortgage. Creating equity while caring for your family—it's a win-win. And, it's the reason Flex Houz is a smart economic solution to the increasingly high cost of housing.
2. Lighten your load. Besides the benefit of a single mortgage or housing cost, Flex Houz also creates the opportunity to share in home-based tasks and costs. With two generations under one roof, both parties can chip in with lawn care, monthly utilities, child care, etc.
3. Make it custom. Like every home we build at Marshall Homes, this one is customizable to meet your needs and tastes. Really, we should say they both are because we know that just because you are family doesn't mean you agree on everything. Let's say you prefer a white kitchen with subway tiles and driftwood-style floors, but your mom wants espresso cabinets with a granite backsplash and tile floors. We've got you covered. The primary house and the multigen suite both include luxe modern finishes and amenities that can be tailored separately to individual preferences.
4. Flex your floor plan. Flex Houz is poised to help you live your best life now as a multi-generational family. But, it's also designed to give you options for the future. We've kept versatility at the forefront of the design because we know that nothing stays the same forever. As your seasons and life situations change, Flex Houz adapts. Maybe for now it makes sense to invite an aging family member into the multigen space. Down the road, you may need the space for an adult child. Or, maybe you don't need a full-time space for family now but could benefit from a home office or a suite for visiting relatives. Life changes, your house should be able to change with it, and Flex Houz does just that.
Your property or ours?
And, to make things that much sweeter, we're offering Flex Houz in two ways: 1) as a floor plan that can be built as a custom home on your own lot or 2) as an option at our new community, Frontier Court. (But here's a tip: there are only 7 lots and at 50-feet each, they are a rare find today so be sure to register.)