For four decades, Steve and Donna Woods spent lazy summer days at their family's cottage in the Haliburton Highlands. They came for the lakes, trails, shops and welcoming culture, but most of all, they loved the laid-back vibe.
When it came time for the couple to retire, they knew there was nowhere else they'd rather be. But their cottage wasn't suited to year-round living or aging in place, so they began looking into a custom build. They purchased a piece of property on 12 Mile Lake in Minden and designed their dream house.
Their must-have list:
amply-sized rooms,
an outdoor living area,
a walkout basement and
a master on the main floor
When they reached out to builders to price it out, their hearts sank.
"The numbers were astronomical," Steve says. Donna adds: "There was no question that building was out of reach for us."
Then, they visited our Port 32 community in Bobcaygeon, and everything changed.
"We stopped by the model home and immediately felt at home," Steve says. "We walked around, got a feel of the floor plan and realized it was very similar to what we had designed. We were ready to just move to Port 32; then we discovered they had a custom-home building service."
When it was time to talk numbers, Steve and Donna braced themselves for another letdown. But this time their surprise was a good one. "It was half of what we were quoted for the custom build from the other builders," Steve says. "As soon as we heard the price, we got excited."
Once they sat down with our design team, Steve and Donna's enthusiasm continued. They chose The Bobcaygeon – a four bedroom, three-bath 1960 floor plan used in the model that included all of their "must-haves" and modified it to suit their lifestyle and tastes even more closely. (The original design called for brick, but the Woods wanted more of a cottage feel and craftsman style.)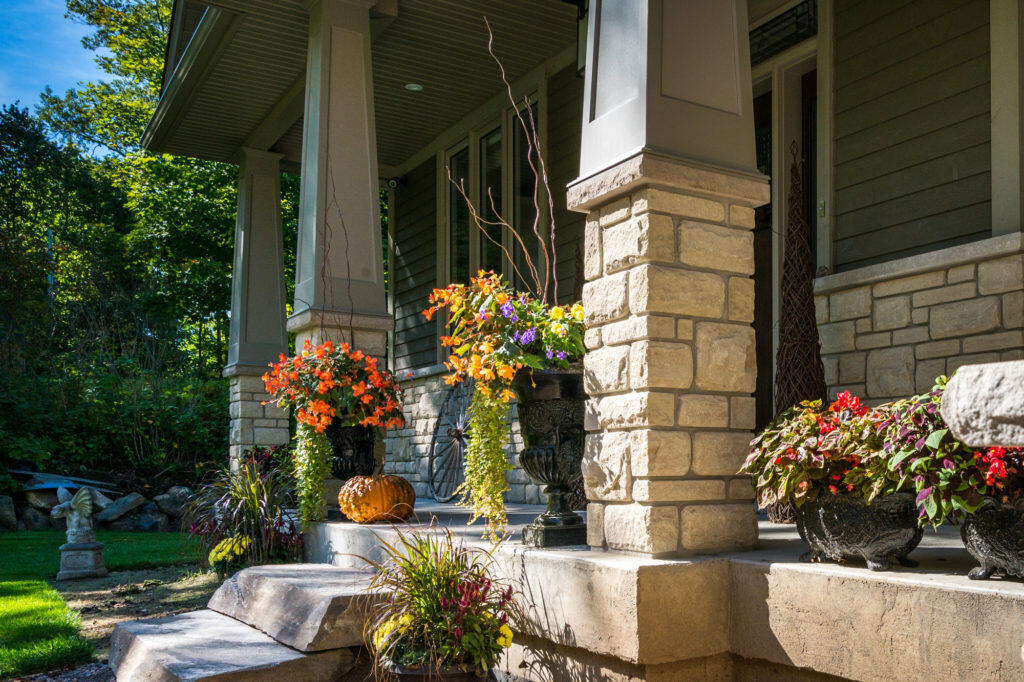 We were a match. Quickly, the couple realized we cared as much as they did about getting things right. "Three days. That's how long we spent going over all the details with Marshall Homes," laughs Steve.
That's not uncommon. That's what our stress-free custom cottages and custom homes approach is all about: starting with a great plan and customizing it. It's how we get to your ideal and avoid those jaw-dropping budgets.
A few feet here, a window there and a great big fridge…
During those three days refining the Woods' home, much of the discussion centered around customizing the design. The couple loved the open concept in the original model but wanted to adjust a few areas in the main living area.
For starters, they wanted a larger dining room to accommodate an antique table. We bumped the house out an additional four feet in the front, and also shifted a pair of windows to frame the matching sideboard.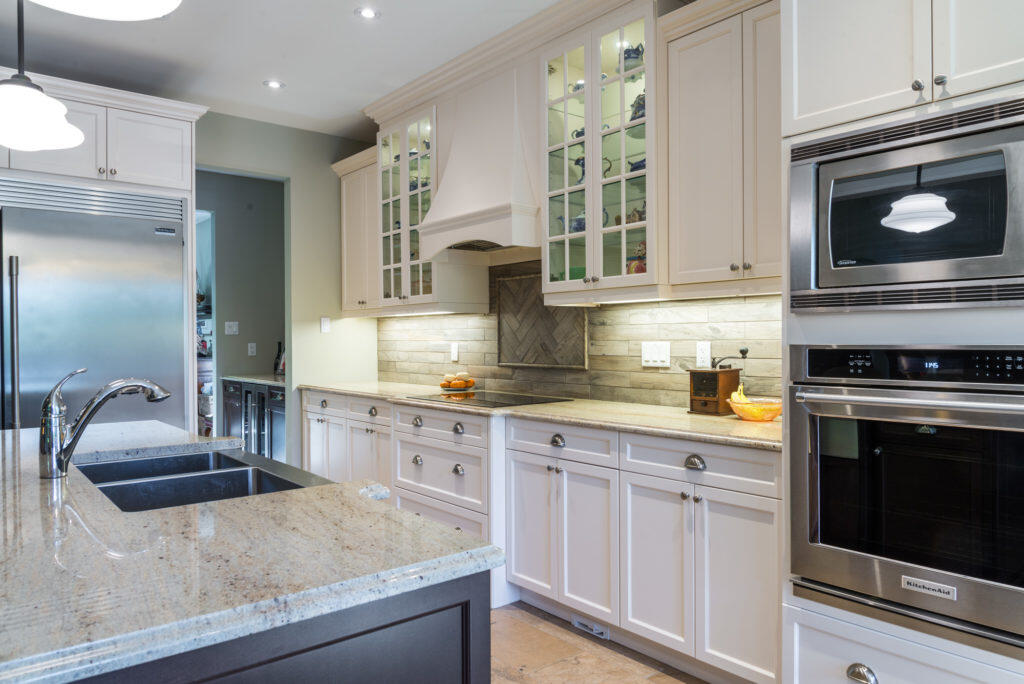 In the kitchen, the couple relocated the wall oven to the opposite side of the room and requested a side-by-side refrigerator freezer. We removed a small pantry to make room for the the larger appliance.
"With the addition of the refrigerator, the island had to be shifted down to accommodate the doors opening," Steven explains. "It was the Sales & Decor Manager at Port 32, Georgina, who alerted us to that. Marshall Homes really nailed out the details."
After removing the pantry, the couple knew they needed additional storage and serving space, so they removed a bathtub from a main floor bathroom to create room for a spacious butler's pantry.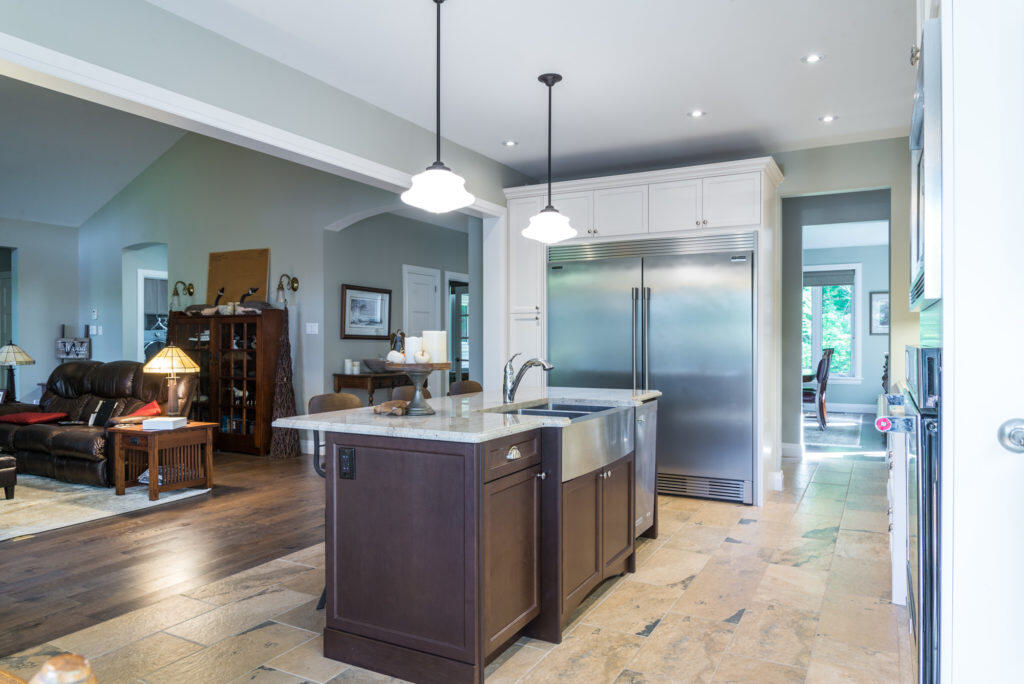 The couple made a few changes outside, as well. They planned to convert the screened-in porch portion of the home overlooking the lake into a sunroom but wanted to finish the project themselves. They also hoped to take on finishing lower level bedroom and adding granite to the fireplace surround.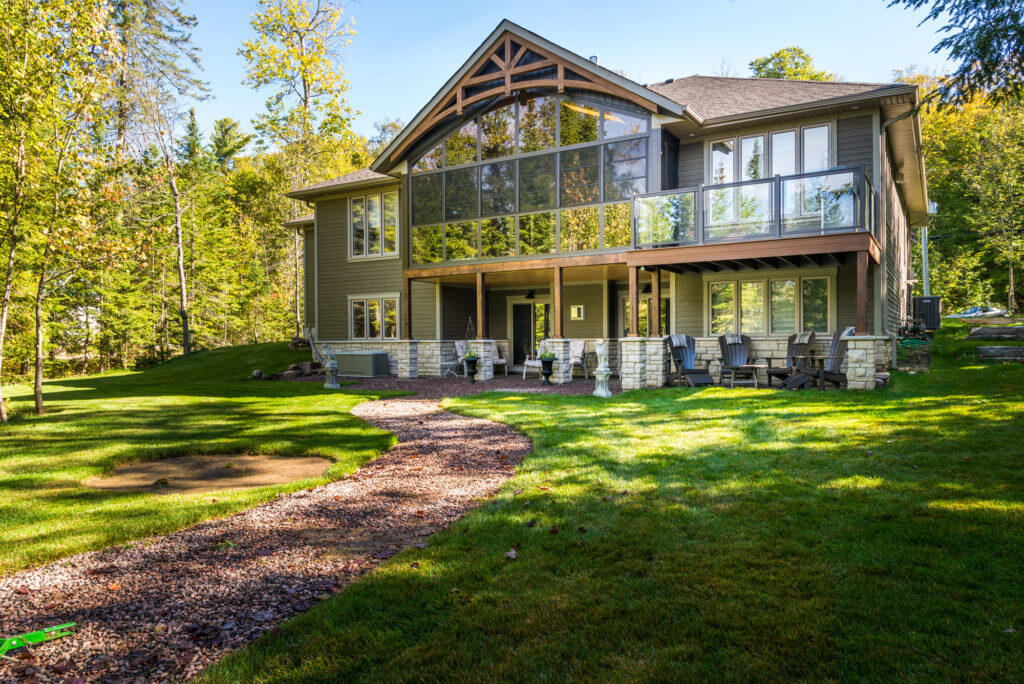 "Marshall Homes is very flexible on a custom build," Steve explains. "They'll let you do as much or as little as you want."
If you ask us, that flexibility is one of the things that sets us apart in the world of custom home builders. None of our clients are exactly the same, and we don't think their houses should be either. That's why we are committed to helping our clients fully customize their finishes.
"Georgina took time to source things out and get us pricing," Steve says. "We looked at tons of samples, but there was no rushing at all on Marshall Homes' end." The couple says the crew who worked on their home was equally attentive and patient. "You could see they really took pride in their work."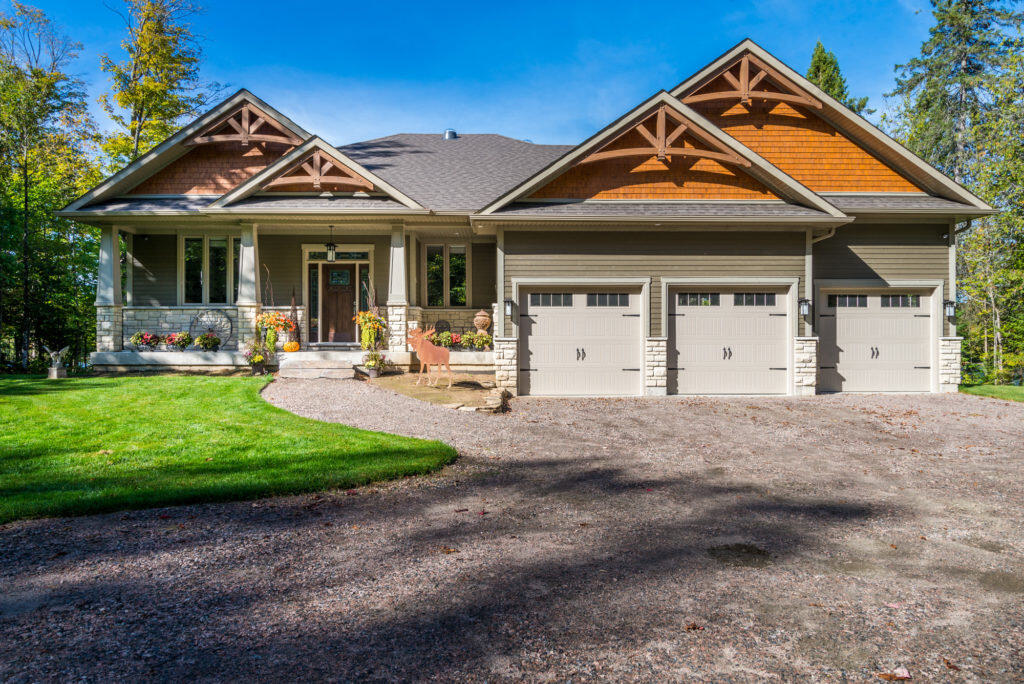 Now, with all of the design details and construction decisions behind them, the couple agree the experience was even better than they expected. "It was actually a ton of fun. There were a few bumps along the way, but Marshall Homes helped us through it all. Building a home should be an enjoyable experience, and it really was," Steve says.
Donna agrees that building with Marshall Homes was fun, but living in a Marshall Homes house has been even better: "It's a wonderful, relaxed and informal lifestyle. We sit out at night and have bonfires and enjoy the beautiful views of the forest, lake and wildlife. It's everything we hoped for."