You've made up your mind, it's time to buy your first home, but where do you start? Purchasing your first property can be a daunting task. The first step should be a visit to your bank to see what you can realistically afford. You've likely been dreaming of your first home for several years, but be realistic, you won't get everything you want the first time around, don't be this guy:
Setting your budget will help you narrow your search, but the next big consideration is location. Do you want a skyline view or a backyard?
Let's take a closer look at Option A: The Downtown Condo
Downtown Toronto may sound appealing, with its array of bars, nightclubs, and trendy shops, but a new condominium in the Entertainment District will run you $500,000 for just 500 square feet. Add in a parking spot at $75,000, a locker at $7,000, two land transfer taxes, and a hefty monthly maintenance fee. You'll be paying a lot for the "fun" of downtown living and that high-rise view, assuming you can afford the additional $1,000 per floor premium and clear the neighbouring towers. When deciding where and what to buy, you should not only think about your current needs, but your future needs as well.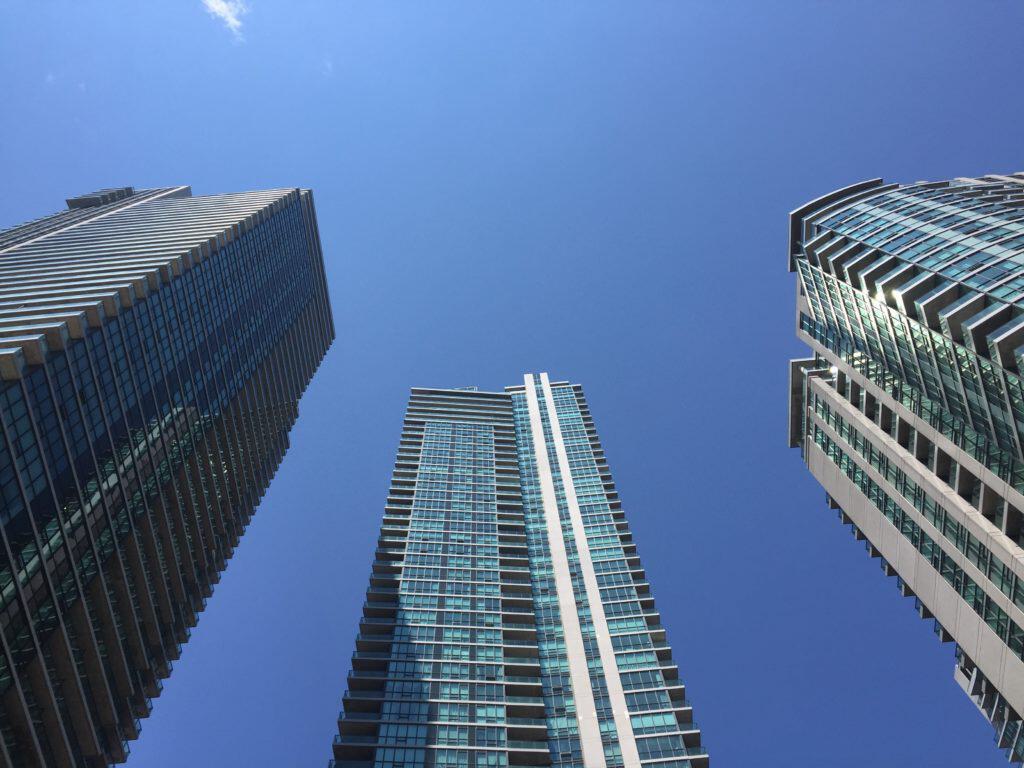 It won't be long before you find that tiny condo is a little too crowded, that elevator ride is a little too long, and that spiral underground parking ramp extremely annoying. You'll find yourself looking for a bigger, hassle-free home. You might think that moving isn't expensive because you'll just buy your uncle a case a beer to hall all of your stuff for you, but there are a lot more costs. A Realtor's commission can cost you over $10,000, you will need a lawyer to review your sales contract, and you may have to pay to break your existing mortgage.
You might not be thinking about starting a family now, but things can change quickly. If you think housing is expensive, take a look at downtown daycare costs. If you survive those years, you might not be able find you're a school for junior anywhere near your high-rise.
Option B: The Financial Benefits of Being Flexible
A key consideration that will save you a lot of money when buying your first home is flexibility. Perhaps a larger townhouse with a short commute is a better choice. You may not get the gimmicky condo amenities like a golf simulator, a bowling alley, a zen spa, or super high-end appliances, but you don't really need the first three, and you can always upgrade your countertop, backsplash and refrigerator a couple years down the road. If you have a second child, need to park another car, a townhouse provides you with that level of flexibility.
As we've witnessed in 2017, market conditions can change quickly, and right when you want to move-up from your downtown condominium, prices might be down and the market slow. Skip a step, and make an affordable move-up now.
Marshall Homes has launched a brand new community in west Pickering, a collection of family-friendly townhouses from 1,617 square feet to 1,927 square feet. The Altona Towns may cost you more than a tiny condominium in downtown Toronto, but you'll get two parking spaces, a backyard, three bedrooms and up to four times the space. There is only one land transfer tax in Pickering (you'll save $8,000 to $10,000 dollars — think of what you can do with that) and you won't have to shell out for that constantly-rising condo fee.
And importantly, you won't need to move again next year meaning another round of legal, real estate and moving expenses to add to the tally.
Add it all up and a smart purchase today could end up saving you tens of thousands of dollars.
It's possible to get more for your money and we can help you with that.
A home at The Altona Towns will not only give you peace of mind by offering a new home warranty, you'll have the flexibility to grow into it, and you might just have have more fun in Pickering anyway.