Lack of affordability in Canadian real estate and pandemic-fueled attitudes on multi-generational living have combined to create a hole in the housing market — a hole Marshall Homes is determined to fill with its unique Flexhouz™ Series.
Designed for two families to call home at once, Flexhouz™ is the ideal solution for families who want to merge their generations under one roof.
The impact grandparents can make in helping raise the younger generation is profound. From mentoring their grandchildren to taking care of them when the parents are busy, grandparents often strive to help in any way they can.
After quality time with their grandchildren, grandparents who live in one of our Flexhouz™ designs can retreat to their own homes just a few metres away. Everyone deserves their own space to call home, and that is where our Flexhouz™ Series excels.
Marshall Flexhouz's™ are large homes featuring a smaller, independent suite inside of it. Complete with its own entrance, garage, kitchen, beautiful living space, and a lockable door connecting the two homes, a large family can live as one while still having time and space to themselves.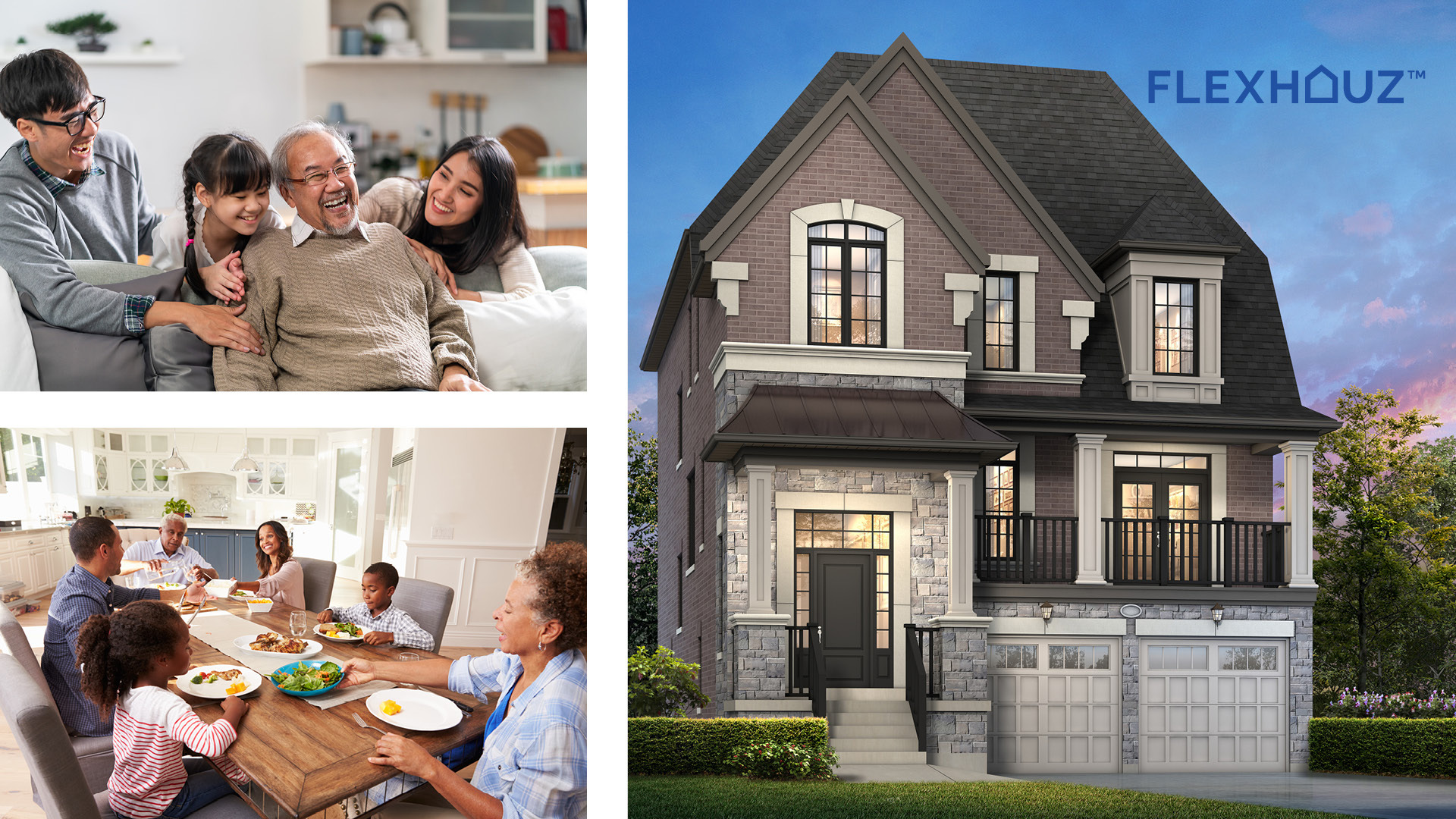 Shifting Attitudes on Multi-Generational Living
Multi-gen and multi-family living is common in many cultures outside North America, and it looks like we are starting to take notes. Stats Canada reported that roughly 6 percent of Canadians were living in multi-generational households as of 2016, their most recent data, but experts believe this could be changing.
On top of the familial reasons for living in a multi-family home, such as childcare or looking after an elderly family member, families are beginning to move in together to offset the rising costs of housing and living.
Toronto's average home price hit a record $1.3 million in January 2022, with similar highs reached in Durham, $1.05 million, and York, $1.41 million.
Flexhouz™ combats this affordability crisis many young families and first-time buyers are facing. Multiple incomes can be leveraged when applying for a mortgage and going the Flexhouz™ route can cost less than buying your parents a condo or paying to house them in retirement communities.
A Prudent Financial Decision
Besides combatting affordability and keeping the family close, building your own Flexhouz™ is a great step towards building equity within the family. Having home equity gives you an asset that you can use when you need it.
Further, having your grandparents live next door can help significantly with childcare costs. We know how quickly they can add up, and this unique take on the future of Canadian housing is prepared to meet those costs head-on.
A Home Fit for Your Needs
Flexhouz's™ are completely customizable, giving you the ability to build a house perfect for your family. Maybe you have some very specific requirements for your lifestyle, and you're having a hard time finding one that suits your family. Building a Flexhouz™ from the ground up ensures your home is up to your family's standards.
A lot of people spend their first few months in their new home reconfiguring and replacing things they don't like.
When you build your own custom home, you will get to make all these decisions from the very beginning. Design the home of your dreams and don't worry about the hassle of living on a construction site when you build your Flexhouz™ with Marshall Homes.
Rising affordability issues and the multiple benefits of having family close at hand makes our Flexhouz™ Series of homes a clear choice for the future of Canadian living.